If you're looking for the perfect getaway town, Spring Green WI might just be it. We know it's a little weird to be talking about travel and getting away in the midst of this COVID-19 pandemic, but we think giving you something to look forward to is important.  The state of Wisconsin is currently on a Stay at Home order issued by the governor, which restricts everything but essential travel. This order is expected to stay in place until May 26, but that could, of course, change.  The state is starting to ease restrictions, allowing small shops to reopen, with limited customers at any one time.
When we are allowed to freely move around and get back to life somewhat as we know it, though, we think you'll be ready for a change of scenery. That's exactly what you'll get at our secluded and quiet Wisconsin Bed and Breakfast, too. Our Inn is the perfect place to escape, to be surrounded by nature, to continue practicing social distancing, and to be well taken care of while doing it.  Give yourself something to look forward to this summer and fall, and book your getaway to our Spring Green WI Bed and Breakfast today!
Getaway to our Spring Green WI Bed and Breakfast
Our Wisconsin Bed and Breakfast is situated on 70 beautiful acres just outside of Spring Green, WI. Whether you're looking for a peaceful and tranquil place to enjoy some R&R, someplace to discover new adventures or something in between, you'll find it at our comfortable Bed and Breakfast. Most importantly, there's plenty of room to roam here, meaning we can still maintain all social distancing guidelines while you're here.
Here are 10 reasons to make our country Inn your home away from home this summer:
May is the month of the hummingbirds and Baltimore Orioles!  It's a great time for birdwatching enthusiasts to visit. You don't have to venture far, either. Ruby-throated hummingbirds frequent our wrap-around porch in the summer months, and the rest of our 70-acres offer plenty of opportunities.
Go hunting for morels, or later in the season, berries. With 70 acres to explore, there is really no shortage of opportunities to find these delicious treats!  Our Innkeepers will be happy to help you get started.
Take a hike! With only 2 other properties anywhere near ours and 70 acres of fields and forest to explore behind our Inn, you can spend an entire afternoon getting "lost" in nature. Ask our Innkeeper about the walking trails in the area, and get outside for a breath of fresh air.
Sit under the stars and enjoy the dark night sky offered by our remote location, then warm up by our outdoor firepit.
Each morning of your stay, savor a delicious breakfast. Featuring colorful fruits, vegetables, and herbs from our gardens, as well as fresh eggs directly from our pampered pets, our hearty breakfasts are a feast for the senses!
Sit back and relax in the afternoons with a board game or a movie in our common area.
Unwind and read your favorite book in our library, on our porch, or somewhere else on our expansive and beautiful property.
Snack on freshly baked cookies in the afternoon and evenings.
Disconnect from our fast-paced and often chaotic world!  If there's one thing about our Wisconsin Bed and Breakfast, it's that it offers the perfect chance to escape for true R&R. We do offer internet and WIFI at the Inn but don't expect it to be fast.  It's much better to take the time to unplug!
Retreat from the outside world, and get comfortable in one of our ten uniquely decorated guest rooms. Let us whisk your worries away and pamper you in style.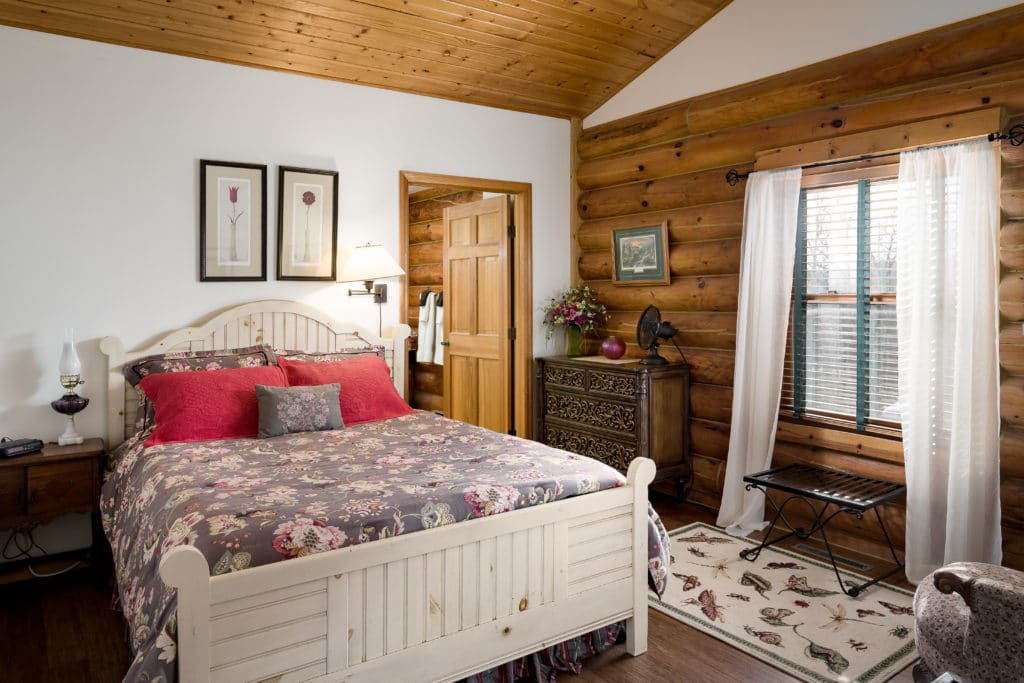 Things to do in Spring Green WI
As things do begin to open again, there are plenty of wonderful attractions and things to do in Spring Green, WI. Keep an eye on these events and attractions, to see when they open up for the season and when you might enjoy them. Please understand all of the following attractions are closed to the public until at least May 26, 2020.
The American Players Theatre boasts an outdoor venue that seats nearly 1100 patrons, as well as a 200 seat indoor theater. Typically these performances run from early June through November, but they are operating on a delayed schedule so far this summer. They plan to release a new schedule by May 15.
Frank Lloyd Wright's Taliesin, built on the land his family-owned since the 1800s, isn't far away. The 800-acre estate is a National Historic Landmark and part of a UNESCO World Heritage Site and is usually open for tours by April.  Due to COVID-19, they are adjusting operations and offering smaller tours beginning June 1.
The House on the Rock was built over 60 years by Alex Jordan, beginning in 1945. The house itself is an incredible tribute to nature. Though it's still closed for the season, it's worth a visit when it does open up.
Outdoor enthusiasts will enjoy hiking at Governor Dodge State Park, Tower Hill State Park, or the Spring Green Nature Preserve. While we wait for these beautiful places to open, our 70-acres of forested land is perfect for a gentle hike.
The small lakes at Governor Dodge offer opportunities for paddle boarding or kayaking, and there are several outfitters in the area that will rent canoes and kayaks for use on the nearby Wisconsin River.
The Fall Art Tour is a spectacular time to visit the Spring Green Wi area, with over 30 artists opening their studios to the public from Baraboo down to Mineral Point. The event takes place in October and is timed perfectly during peak autumn color in the area. Mt. Horeb also boasts a wonderful art fair, usually the 3rd weekend in July.
Though there is plenty to do in Spring Green Wi, and at our property, sometimes the best part about a getaway is doing nothing at all.  You can do that at our Wisconsin Bed and Breakfast, too!    Book your room at our Spring Green WI Bed and Breakfast today.