While staying at the Silver Star Bed and Breakfast, your days will be filled with sightseeing, hiking, shopping, and theater-going. That's why we prepare hearty, wholesome, homestyle meals to start your day.
Breakfast is made for you fresh anytime between 8:00 and 9:00 am, with coffee available starting at 6:30. Juice, milk and a wide variety of teas are also served every morning. Guests may choose to eat in our spacious dining room, but during the summer, most prefer to dine at wrought iron tables on the front porch overlooking the gardens or our beautiful side deck. Guests are joined by dozens of birds, including the always entertaining hummingbirds that frequent our Inn from May through September.
Capitalizing on our love of gardening, we try to incorporate homegrown herbs, tomatoes, squash and peppers into our tantalizing frittatas and omelets all summer long. Likewise, juicy apples from our own trees find their way onto waffles and French toast during the fall. Homemade applesauce and jams may also be enjoyed with some of our breakfasts.
Some of our guests' favorite meals include the following:
Fluffy waffles from scratch with caramel apple topping served with sausage and a fresh scrambled egg* with garden chives
Western frittata made with zucchini and tomatoes from our garden, along with roasted potatoes and a fresh-baked muffin
French toast casserole made with a variety of seasonal fruits (strawberry/rhubarb, peach, blueberry), served with bacon and a fresh scrambled egg*
Made-to-order omelets, featuring freshly grated gouda or Colby from our local farmers.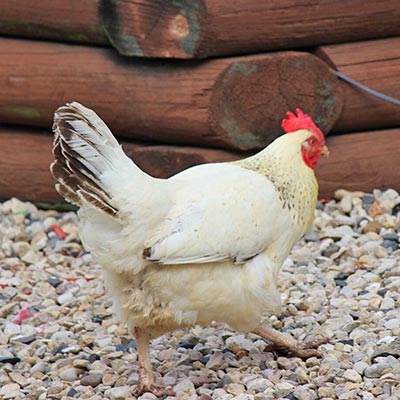 While we have our favorite standard recipes, we are happy to modify them to accommodate food allergies and dietary restrictions. Just let us know when you make your reservation!
*Did I forget to mention that we have our own CHICKENS on the property? We serve their super-fresh eggs every chance we get! They also act as our recyclers… they take care of any fruit and vegetable waste, as well as the rare leftovers from the guests.