Chilly winter days are made for cozy, romantic retreats. If that sounds like something you need in these coming winter months, then we urge you to book a romantic getaway near Spring Green Wisconsin. There's no better place to curl up, relax, and forget about the outside world than our rustic, comfortable, and well-appointed Bed and Breakfast!
Our Wisconsin Bed and Breakfast is nestled in the southern reaches of Wisconsin's Driftless Area and is just outside of the charming town of Spring Green Wisconsin. We're away from all the crowds and offer our guests the perfect opportunity to relax.  Whether you prefer to spend your days outside playing in the snow and having adventures together, or whether you envision a romantic getaway curled up inside in front of a cozy fire, we'd love nothing more than to pamper you this winter.
Don't you think it's time you scheduled in that much-needed "you" time?  We sure do!  Book your romantic getaway at our Bed and Breakfast near Spring Green Wisconsin today!
A Romantic Getaway in Spring Green Wisconsin
If there's one thing we love to do at our Bed and Breakfast near Spring Green Wisconsin, it's taking care of our guests and ensuring they have a memorable time with us.  Romantic getaways, in particular, are our specialty.  Here, you can expect to find all the comforts of home, but none of the stress.  And we think you'll start to feel the benefits of a romantic getaway here the moment you arrive at our doorstep!
As you begin to plan your romantic getaway to our rustic lodge-style B&B, your first choice will be which guest room you'd like to stay in. We offer 10 unique guest rooms, each of which has their own charms, but all of which offer a comfortable retreat away from the outside world. Most of the guest rooms at our Bed and Breakfast offer queen beds, and some offer additional bedding arrangements (such as daybeds).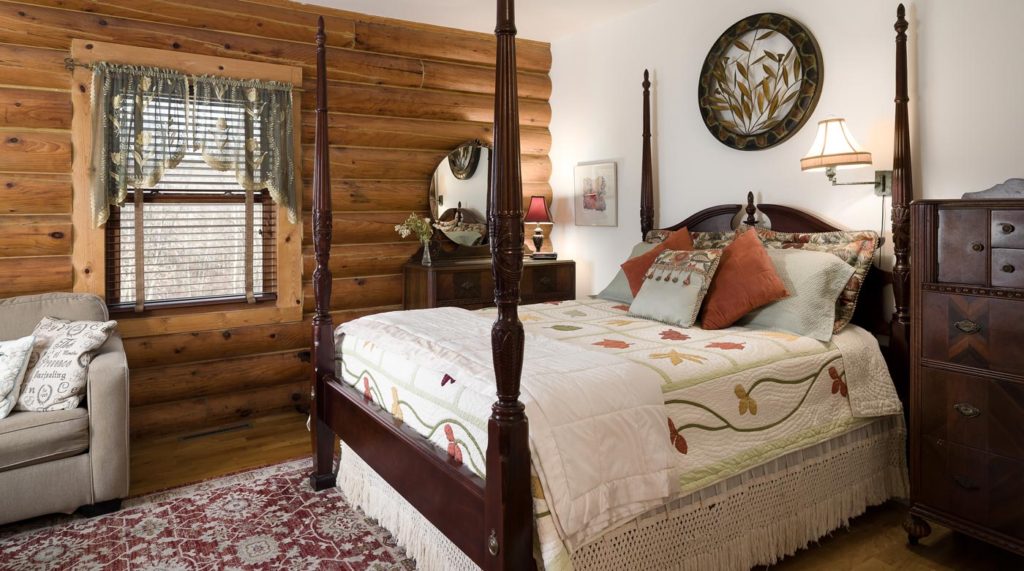 Only one of the guest rooms, the Hummingbird Haven, offers a jetted tub and can be considered our most romantic space. It's also our largest guest room and has its own foyer entrance and sitting space, along with an inviting four-poster bed. Our No Boundaries Room is not only ADA accessible but also offers a private deck.  It's the perfect space if you want to enjoy the winter wonderland that is just beyond your door.
Each of the guest rooms at our Wisconsin Bed and Breakfast is just as wonderful as the next, and they all include access to our wonderful array of amenities.  Our most popular amenities include:
Board Games and a DVD Player and Dish Network in the common area
A welcoming fireplace in the common area, along with a piano and a library
Outdoor firepit and walking trails around our property
Wrap-around porch and deck, perfect for enjoying the peaceful nature of our property
Complimentary beverages, fresh baked cookies, and snacks throughout the day
And while all of these amenities are wonderful, they are nothing compared to our breakfast, which is made fresh for you daily! Our breakfast is the perfect hearty, delicious, and wholesome meal you'll need to start off your day in the area, especially during these chilly months of winter. We're happy to accommodate your dietary restrictions, too, so long as you give us enough notice to do so.
Certainly, the amenities at our Bed and Breakfast in Spring Green Wisconsin make all the difference when it comes to enjoying your romantic getaway.  They are a wonderful part of your stay.  But it's made even better by the fact that we're a small property, away from the busy din of crowds in the cities and at traditional hotel chains and larger lodging properties.  And though we're small, we don't compromise on a thing – especially when it comes to our hospitality!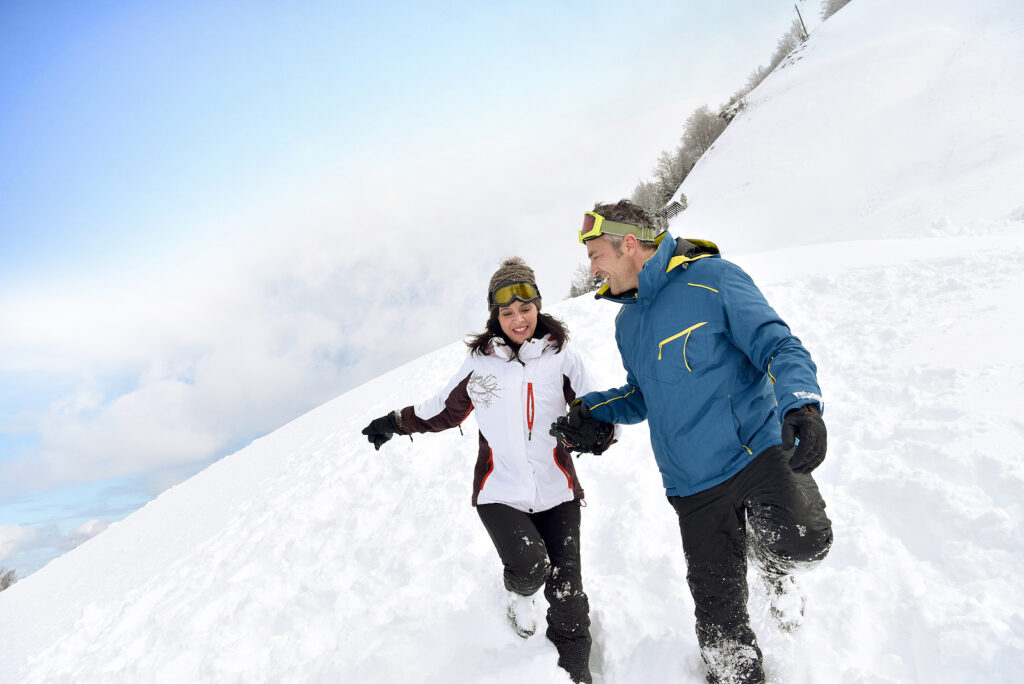 Romantic Things to do near our Bed and Breakfast
Winter is a wonderful time of year to plan a romantic getaway to Spring Green Wisconsin.  Outside, you'll find a wintry wonderland full of possibilities.  Inside, you'll find cozy spaces and plenty of quiet – something we often find to be the perfect antidote to stress at this time of year.  If you are looking for ideas to enjoy this area more, here are a few of our favorites:
Bundle up and take to the trails around our property.  They are peaceful and offer just the right amount of restorative time in nature without having to stray too far.
Head to Governor Dodge State Park for some winter snowshoeing, cross country skiing, and snowmobiling.  They also have a sledding hill, which is a great way to get in touch with your inner kid again!
Do a little shopping in downtown Spring Green Wisconsin, stopping in to visit the wonderful art galleries in the area, such as the Jura Silverman Gallery. Some other great shops to visit include Arcadia Books, an independent bookstore with a café and coffee shop; The Opal Man jewelry boutique; and Convivio home decor.
Do a little cheese (and wine) tasting in the area!  There are some really great spots in our little corner of Wisconsin.
Sit back and relax in the afternoons with a board game or a movie in our common area.
Relax with a good book or conversation in front of our fireplace this winter – it's the perfect place to escape the winter chill outside!
Every guest at our Bed and Breakfast is different, so how you spend your time in this stunning part of Wisconsin is your choice. However, at the end of the day, let us take care of you and be the welcoming home away from home that you deserve this winter! Book your romantic getaway to our charming Bed and Breakfast in Spring Green Wisconsin this winter!